In recent years, technological innovations in the automotive field - such as autonomous driving and ADAS – make it necessary to generate a wider variety of sounds, such as warning alerts for lane departure and obstacle detection. As a result, even audio output systems in the instrument cluster are utilizing speaker amps to generate sound with an MCU, instead of relays and electronic buzzers that produce blinker and warning sounds. However, until now it was difficult to ensure safe, stable sound output at loud volumes.
ROHM developed the BD783xxEFJ-M series for vehicle clusters requiring various sound outputs at high volume, including warning sounds, turn signals, welcome tones, and voice guidance. Also, adopting a new type of over current protection (OCP) circuit provides protection against output shorts (damage due to accidental terminal contact) that was difficult to achieve in the past, making it possible to deliver high 2.8W output. Thermal shutdown and under voltage lock out (UVLO) are also built in to ensure high reliability protection against abnormal conditions.
What's more, qualification under the automotive reliability standard AEC-Q100 and support for high temperature operation up to 105℃ enable stable voice output without compromising functionality even under severe conditions.
Going forward, ROHM will continue to contribute to greater safety and comfort by developing high quality, high reliability products for the automotive field where sound diversification is increasing.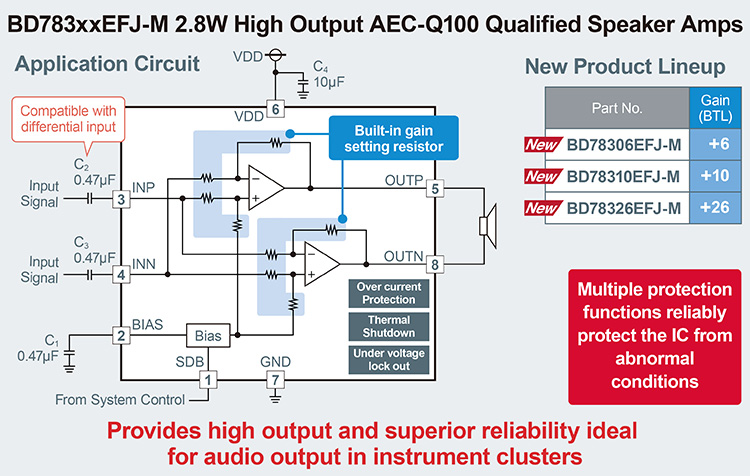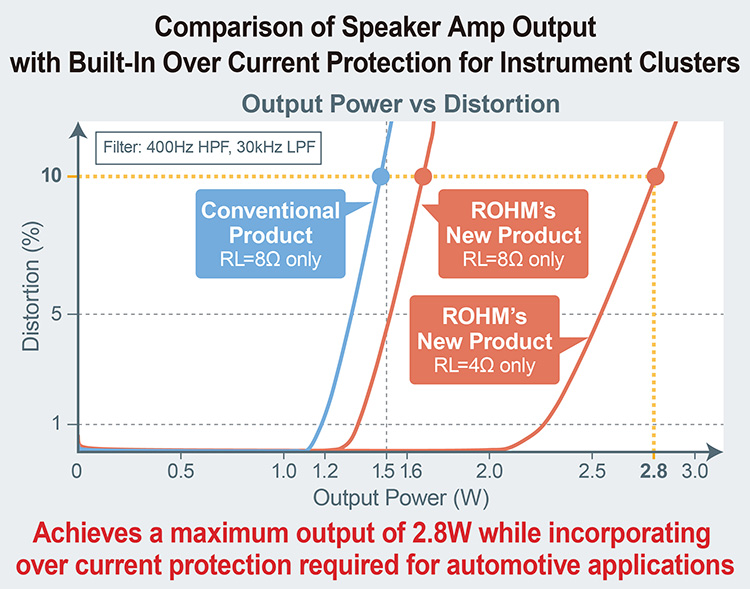 Key Features
1. High 2.8W output with built-in over current protection
With conventional over current protection circuits, the maximum output is limited, since the operating threshold of the protection circuit must be set to a value smaller than the maximum current the speaker amp can provide.
In contrast, ROHM's new overcurrent protection circuit eliminates the need to limit the output by preventing waveform distortion even at high output. This allows the BD783xxEFJ-M series to provide over current protection from output shorts which was difficult to achieve in the past while enabling high output (2.8W max. at 4Ω load and 10% distortion).
2. Ensuring high reliability in vehicle applications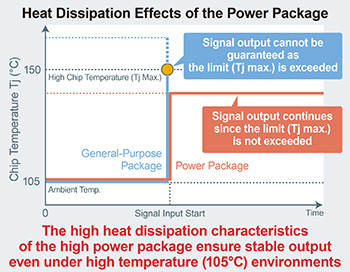 The BD783xxEFJ-M series is qualified under automotive reliability standard AEC-Q100 and supports a maximum operating temperature of 105ºC. At the same time, adopting a power package reduces heat generation even at high volumes, resulting in stable audio output without compromising functionality - even under severe conditions. An in addition to over current protection, thermal shutdown and under voltage lock out are built in that prevents damage caused by abnormal heat generation and unexpected popping/cracking noise during battery interruptions.
Installed on Cypress Semiconductor's Reference Board
ROHM's BD783xxEFJ-M series of speaker op amps are mounted on Cypress Semiconductor's TraveoTM Cluster MCU Family S6J3360 Series Evaluation Board for automotive applications, allowing for easy evaluation under conditions similar to actual use.
Product Lineup
ROHM offers products featuring output gains of +6dB (BD78306EFJ-M), +10dB (BD78310EFJ-M), and +26dB (BD78626EFJ-M). The lineup will be expanded to include a total of 11 models ranging from +6dB to +26dB in 2dB steps.
☆Under Development
R男女牲交45分钟A片,肉色超薄丝袜脚交一区二区,亚洲熟妇AV一区二区三区,国产精品毛片AV一区二区三区